What are OUTs?
---
OUTs refer to the unseen cards still left in the deck that will improve your hand after the Flop. As you might guess, the more cards left in the deck that will improve your hand, the better. That's why, after the Flop, you want to stay with hands that can be improved in a number of ways. The more outs, or ways your hand can potentially improve on the Turn or the River, the better your chances are of winning the pot. By counting your outs, you can do a very rough, quick calculation to estimate your chance of improving your hand after the Flop, and hopefully having a winning hand. Knowing how likely (or unlikely) you are to improve will help you make a better decision about how much (or little) to invest in the hand. Poker Indicator shows you exactly, the Total Outs and Outs to hit a particular hand on the chart bar.
About Pre-flop winning percentage.
---
The pre-flop winning percentage is generated by a random simulation of numerous games and assumes all players stay in until the end of the hand. The results are not so accurate as the odds Poker Indicator calculates after flop, but they are good enough to indicate the strength of your starting hands.
How do I use the manual calculator?
---
It is quite simple to use. You can select your hole cards and the board cards by clicking any card in the deck. The first two are your cards. The rest are the board cards. Also you should select the right number of opponents. You will then see the corresponding odds are displayed at the top part of the window. You can use the manual calculator for poker sites that are currently not supported by Poker Indicator, or even while playing in a live poker game with your friends.
About Opponent Stats:
---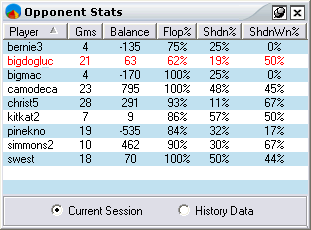 This data is collected using the same information you receive while sitting at the poker table. Poker Indicator does this for you, by reading the log files supplied by the online poker rooms themselves. The advantage of relying on Poker Indicator is that it actually remembers all the precise player and table activity, and automatically tabulates it for you. Top professionals have amazing card memory - so can you!
Gms
: Number of games tracked for that player. By this you know how representative the stats are.
Balance
: The dollar amount that this player is up or down for all hands tracked for the current session. It is very interesting to observe how different playing styles (see Flop%, Shdn% etc) correlate with winning or losing patterns. Also, the balance may represent additional useful information regarding the player's current mindset (who is more likely to "play it safe", who is getting desperate, who is about to "go on tilt" etc).
Due to technical difficulty, sometimes the balance value might not be accurate on some sites.
Flop%
: The percentage of games where this player saw the flop (over the entire number of games played). This is the primary indicator of where this player falls in the tight/loose scale, and is very useful in putting your opponent on a range of hands.
Shdn%
: The percentage of games where this player stayed in all the way to showdown (over the entire number of games played). This is another extremely useful piece of information, especially when combined with the Flop%. A small difference in the two, for example, 70% Flop and 58% Showdown, indicates that this player is prone to calling a lot and chasing long-shot possibilities (AKA "fish detection").
ShdnWon%
: The percentage of showdowns that this player actually won. A high percentage shows that the player know which hands are worthy of a showdown and has a good feeling of whether his opponents are bluffing or not (and vice versa).
The row with red color is the data for yourself.
Play money
and
real money
data are tracked separately.
Balance
data is collected only for the current session.
Flop%
,
Shdn%
and
ShdnWon%
are collected historically.
Opponents Stats will be collected even you're sitting out. This data is kept locally on your computer and will be loaded automatically next time when you're sitting with the same player.
Why does the manual calculator give different odds and EV on the same hand compared with the real time one?
---
We use a slightly different way to calculate odds in manual calculator compared with the real time one.

When calculating odds in real time, Poker Indicator takes into account the original number of players and the number of players still in hand for Win/Tie odds. In this way, you'll get a more accurate and informative odds result.

If no one folds during the game, you should see the same odds results in real time and in the manual calculator. When you use the manual calculator, please don't forget to select the correct number of opponents. Let's say there're 5 players in a hand (including yourself), you should select 4 opponents for the manual calculator.
Why doesn't my Poker Indicator automatically show opponent's mucked hands at showdown?
---
Currently, this feature is only available for
Party Poker
, EmpirePoker,
Full Tilt
,
PokerStars
, iPoker network, Cake Poker Network, Entraction Network(24h, B2B), CEREUS Network (UltimateBet, Absolute Poker, etc).
Do poker rooms allow Poker Indicator?
---
YES. This program does not play for you, and therefore does not violate the rules or policies of any online poker room. Poker Indicator was officially approved by
PokerStars
.
Does Poker Indicator monitor any personal information of mine? Does Poker Indicator send any information over the Internet?
---
Poker Indicator does not send any information about you or your opponent's hands over the internet. It does not read anyone else's cards, and does not share information with your opponents. Feel free to download any of the popular network tools and monitor Poker Indicator if you feel you need to.
What kind of games does Poker Indicator support?
---
Poker Indicator supports Limit and NL/PL Texas Hold'em, including ring games and tournaments.
How can I get started?
---
Poker Indicator is very easy to use. You can launch Poker Indicator before or after you sit in at a table. Then Poker Indicator will automatically find and attach itself to the game table that you're playing. We suggest you to try it on play money tables first, so you can get used to the functionalities that Poker Indicator provides before taking to a real stakes game.
I already installed Poker Indicator. How can I upgrade it?
---
Poker Indicator will automatically detect the availability of a newer version. You can just re-download and install it. And you don't need to unlock it again if you already unlocked it.
What does EV mean?
---
EV is the Expected Value for your hole cards. Expected value is the average amount of big bets this hand will make or lose. So, for example, AA from the small blind in a 3/6 game will make on average 2.71 times the big blind, or $16.20 per hand (2.71 * $6). 22 from the button (D or Dealer position) however, will make -0.12 EV, or -$0.72 in a 3/6 game (6 * -0.12). This data was extracted from Poker Room's EV Page. Thus, these statistics are actually compiled from live table data instead of simulations.
Why is the EV different when I have the same pocket cards?
---
EV is not only based on your pocket cards, but also dealer button's position, your seat position, and the number of players in that hand. So it is possible that you will see different EV values with the same pocket cards.
What does Group mean?
---
It's another way to describe your hole cards' strength. In the poker book
Hold'em Poker for Advanced Players
by David Sklansky, he divides the starting hands into 9 groups. Group 1 is the strongest, group 9 is the weakest. By only playing poker hands that have profitable EV, you will certainly improve your Texas Hold'em game. Please remember however, that this is a compilation of EV for the average player, so they are just representative of long term statistics and not Texas Hold'em facts. You will still need to play your poker hands accordingly, which means you need to observe your opponents, and play as the flop sees fit. For the whole list of the groups,
click here
.
What do the numbers above the bar charts stand for?
---
These numbers represent the probabilities of hitting a particular hand for you AND your opponents at showdown. For example, if it shows 20% of flush for you and 30% for your opponents, it means that finally you have 20% possibilities to get a flush, while your opponents collectively have a 30% chance of hitting a flush.
What is Pot Odds?
---
Pot odds ratio is simply a calculation of the amount of money in the pot compared with how much money it takes to call. The higher the ratio, the better your pot odds are. If there is $12 in the pot and it costs $4 to call then you are getting 3:1 pot odds (winnings : "cost to stay in"). This can be translated into a percentage, representing the size of your contribution in the new pot. It will be 25% in the above example.
How have users experienced the highest levels of success using Poker Indicator?
---
1) Trust odds that Poker Indicator provides you, don't play by the luck of the draw.
2) Keep an eye on your opponents. Sometimes you might have to fold even it shows you have good odds. For example, if you have 60% winning odds, then you still have about 40% possibility to lose. In this case, if you can find that your opponents might have better hand by seeing how they behaved, you may decide to fold your hand.
Why do you send duplicate emails with Registration Code to me?
---
Considering that there might be email blocking for spam or junk email, we try to send email to our customer through different email address to make sure you get the Registration Code timely.
Will Poker Indicator support more poker rooms in future?
---
YES. We're working on this. If your site isn't supported right now, it probably will be soon. Thank you for your patience.
Does Poker Indicator support MAC OS?
---
NO. Poker Indicator currently only supports Windows OS. You can check out our Mac Poker Calculator at
iHoldem Indicator
.
Why does Poker Indicator need to access the Internet?
---
Poker Indicator needs to connect to the server to check the latest software update. If there's a new version available, Poker Indicator will notify you by popping up a message box. Poker Indicator won't transfer any data to the server during your play. It won't send any of your private information over the Internet. So it's 100% safe to allow Poker Indicator to access the Internet.
Does Poker Indicator support multiple game tables at the same time?
---
Poker Indicator supports multiple game tables at the same time. You can launch up to 20 (10 on some sites) instances of Poker Indicator by double clicking the icon of Poker Indicator multiple times. Each of the Poker Indicators will work with each of the game tables independently.