"
ACR's highly successful $6 Million Venom is done but there's much more coming in 2020:
For an encore, Americas Cardroom hosted a $6 Million Venom tournament, which just wrapped up. Here's a quick recap of the big multi-day event:
• Total prize money guaranteed: $6 million
• Total entries: 2696
• Final prize pool: $6,740,000
• First place prize: $1,039,982
• $6 Million Venom winner: galodoido13 Visit
Americas Cardroom
to learn more about the Venom and the Blitz Bonus Builder. "







Poker Indicator Odds Calculator ScreenShots
Poker Indicator attaches itself to the bottom of your game table. You can get all information you need at a glance.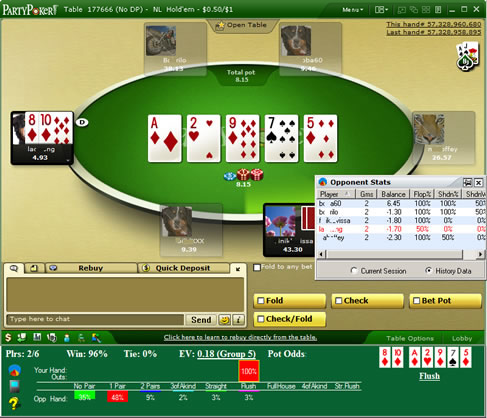 ---
Win/Tie odds, EV, Sklansky Group and Pot Odds. You can get the whole list of the Sklansky Groups. For PokerStars and Full Tilt (only), we use "Rank" to indicate the absolute strength of your starting hand, 1-169, 1 is the best hand. Holdem Indicator converts it into percentage as "top %". You can get more information about the starting Hand Ranks.
What kind of hands you'll have at showdown.
What kind of hands at least one of your opponents will have at showdown.
Display total outs and outs hitting a particular hand.
If you're playing in full screen mode, you can click to make Poker Indicator "Always on Top".
Click button to display Opponent Stats.

---
OUTs cards display: move your mouse over "Your Hand" rank bar, Poker Indicator will display the OUTs cards for that rank.

---

---

---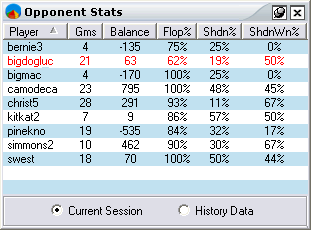 These data are collected using the same information you receive while sitting at the poker table. Poker Indicator does this by reading the log files supplied by the online poker rooms themselves. The major difference is that Poker Indicator actually remembers the action and automatically recalls it for you. Top professionals have amazing card memory - so can you.

Play Money and Real Money data are tracked separately . Balance data is collected only for the current session. Flop%, Shdn% and ShdnWon% are collected historically.

Opponents Stats will be collected even you're sitting out. These data is kept locally on your computer and will be loaded automatically next time when you're sitting with the same player.
Gms: Number of games tracked for that player. By this you know how representative the stats are.
Balance: The dollar amount that this player is up or down for all hands tracked for the current session. It is very interesting to observe how different playing styles (see Flop%, Shdn% etc) correlate with winning or losing patterns. Also, the balance may represent additional useful information regarding the player's current mindset (who is more likely to "play it safe", who is getting desperate, who is about to "go on tilt" etc). Due to technical difficulty, the balance value is not accurate for PokerRoom (and skins) and Paradise.
Flop%: The percentage of games where this player saw the flop (over the entire number of games played). This is the primary indicator of where this player falls in the tight/loose scale, and is very useful in putting your opponent on a range of hands.
Shdn%: The percentage of games where this player stayed in all the way to showdown (over the number of games saw flop). This is another extremely useful piece of information, especially when combined with the Flop%. A small difference in the two, for example 70% Flop and 58% Showdown, indicates that this player is prone to calling a lot and chasing long-shot possibilities (AKA "fish detection").
ShdnWon%: The percentage of showdowns that this player actually won. A high percentage shows that the player know which hands are worthy of a showdown and has a good feeling of whether his opponents are bluffing or not (and vice versa).
The row with red color is the data for yourself.
You can make Opponent Stats window "Always on Top" by clicking button.